BLUEPRINT magazine
Chinese language site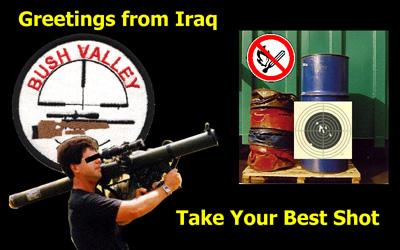 Postcard
from Iraq
German News
timeline of elections
and proceedings =>

Public opinion in
the Middle East
one year Al-Jazeera
opinion poll => =>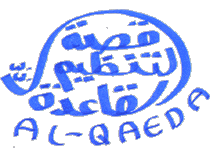 On Al-Qaeda and Friends
A document about Muslim terror and
anti-Americanism, essentially based
on rarely cited Arabic publications !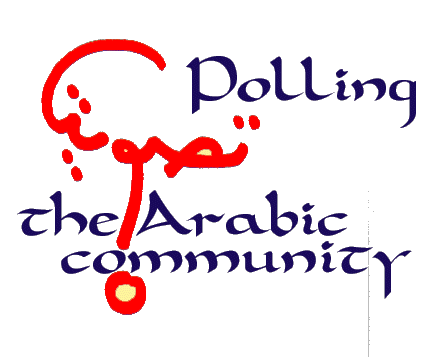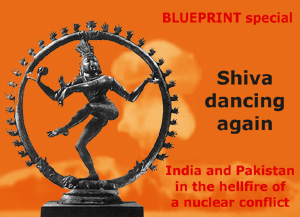 News on the
Axis of Evil
Jackpot Afghanistan
A long and dirty
war for natural
gas and crude oil
from Central Asia
Choose your
Xmas present
further down !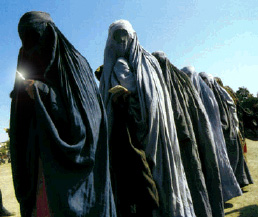 The Afghan people and their enemy
What kind of people are living in that remote area ?
British, Spanish, U.S. and German sources are cited.
Click to the neighbouring icon !






free at last !
your ghost in the bottle
The Lord's "little helpers" in an ugly doomsday business recently escaped from their bottles. Anthrax and Sarin are no longer under control and join the manifold dangers of daily life we are already accustomed to. From the abyss of Tokyo underground to the summit of Capitol Hill, a slight idea of retaliation for human hubris has found its way into our brains. Now the "Almighty's task force" could be waiting for Ramadan, one of their favorite seasons, to teach US another lesson .....




Babylon Under Attack
how to identify their enemies
Three weeks after a bloody assault on its civilization, the empire is now going to strike back. Just the right moment to identify the real culprits. As the Middle Eastern history of terror showed, it never makes sense to simply "shell the usual suspects". This site is intended to give the more intelligent citizens of Babylon an idea of what is wrong with the official procedure, facing one kind of terror with another one. Terrorism, as anything else in this world, has its individual reason and development. Therefore, it would be wise to go to the roots, even though that might be more painful than the collapse of Babylon's most famous tower.
To avoid any misunderstanding: There is no excuse for terrorism involving innocent people, but the worldwide statistics of casualties due to terrorism should no longer neglect "the poor and the ugly", thus inevitably doubling the percentage of "beautiful people" among the victims.


BLUEPRINT Special: An evaluation of the
current situation in both Arabic and Chinese.





Thou Shalt
Not Tease
Thy Dragon
spying on China

A homemade U.S. president is going to learn the art of foreign policy by means of trial and error. After having snubbed a global community, simply concerned about changes in the worlwide climate, it's now the Chinese that give him his first lesson. - Click to the neighboring image to get some more information on the Hainan incident !

BLUEPRINT Special: U.S. President George Bush as seen from abroad.
Now that Bill Clinton is no longer on duty, we need a look at the good old times when the China business wasn't that tough. => read article further down: "Embracing the Dragon" (1999).




From Moscow with Love
the Dalai Lama and
his flight into India

Half a century ago, in 1951, the People's Liberation Army finally reached the outer parts of the former Chinese empire and established Communist rule even in the remote highlands of Tibet. Up to then, Tibet had preserved a kind of political and social system reminding European feudalism of medieval times. Such, it was inevitable for the religious and political leaders of Tibet, represented by the Dalai Lama, to accept a thoroughgoing reform to be imposed on the Tibetan people by the joint forces of Mao's Communist China. When in 1954 the Dalai Lama managed to escape from the tightening grip of Chinese Communists, it must have been with the approval and support provided by the "Greater Soviet Empire". Two Czechoslovakian "journalists" who happened to visit Tibet's capital Lhasa just in time, seem to be involved in the Dalai Lama's flight into India. India, then a reliable partner of the Soviet Union, offered him an exile in a region that has always been inhabited by the Tibetan people. Now, that the Soviet empire has vanished, it is clear to everybody that there had never been anything like "chance" or "unexpected development" when travelling citizens from any country behind the Iron Curtain were involved in politics abroad. Seen before the background of an increasing separation between the Communist parties of China and the Soviet Union at that time, it is reasonible to imagine the Dalai Lama being involved in a game, originally planned and conducted by Soviet authorities. Scrutinizing the development that finally lead to the Sino-Indian war of 1962, such assumption becomes even more realistic. As for the ubiquitous Dalai Lama and his advisers, the 50th anniversary of Communist take-over in Tibet is just the right moment to raise some basic questions. After having acquired a certain reputation in the world of esotericism and religious sectarianism, the Dalai Lama might even turn out to be a Trojan horse. He wouldn't be the first to be discovered ...




Inseparable Enemies
wrestling for Palestine

Since turmoil in Palestine has started again, only after a short period of hope for peace, the Middle East has once again attracted the interest of foreign observers. The World Wide Web reacted promptly, and now lots of informations and comments are available from both sides.

One of the most comprehensive links to official sources in Palestine is maintained by the Palestine Information Center, providing daily news and lots of background information. Another daily newsservice is offered by the Palestine News Agency WAFA.

While Jews and Palestinians, resembling enemies that can't separate, are unable to agree on the basic terms of peace, they can try to avoid further escalation. At least, there is one simple truth for both sides in that teasing conflict:

- wherever you go, I'll be on your way

In order to give you an idea of what is really happening in the Middle East, two websites have been selected from a growing choice of sites, initiated by the Islamic Resistance of Palestine:
Such, a very special gallery of death, presenting the face of war, comes together with the English language site of Hizbollah TV, named Al-Manar (flambeau)

TV.



Now, it's up to you to decide who should be blamed for the casualties: Those who shoot children or those who take children to the front line.

Please note:
As both websites present some real hard stuff, they are not suitable for persons whose character is not yet fully developed !

During the last decades, the Palestinian people, forming part of a vast Muslim community, have developed a culture that is closely linked with their actual situation and political background. That is why BLUEPRINT magazine offers you a glimpse at the poetry and music of Palestine. While you are reading a patriotic poem written by Mahmoud Darwish, you can even listen to the famous Lebanese artist Fairuz, presenting songs from her latest album Jerusalem in my Heart.



On Maoism and Marketing
commemorating PR China's
50th anniversary

On 1 October 1949 the People's Republic of China came into being, founded and ruled by a few Communist cadres under the leadership of Chairman Mao Tse-tung. Now that Mao's successors have loosened their grip on economy and trade, the temporary success of an unbalanced economic development is covering up China's political and social problems. Hence, it might be useful to look back to the roots of Mao's revolution, to get an idea of its basic stipulations.


As a contrast, BLUEPRINT offers you a closer look on modern China, inspired by the benefits of Western technology and guided by the rules of an age-old tradition. You can even grab your copy of a "People's Daily" edition dealing with China in space.



A New Direction
let's go to soul mountain !
Gao Xing Jian, recent laureate of the Nobel Prize for literature, represents a generation of Chinese compatriots who left their country after having endured manifold hardships in the Great Cultural Revolution. Soul Mountain, one of his latest books, is Gao's private summary of those years. It shows how he finally reached his goal after ...

the Long March of a counterrevolutionary.


Until recently, Soul Mountain wasn't available in Mainland China. Now, Radio Foshan (literally: Buddha's Mountain Radio), a funky new station situated in the People's Republic, introduced Gao's book to the selected audience of China's internet. Gao even got his web space to deliberate on the starting point of his creative activity. Another article of his deals with the relationship between literature and metaphysics. To make it a perfect mix, some Chinese commentator is raising the heretic question: Is there anything wrong about Gao receiving the Nobel Prize ? ... Unfortunately, this is a Chinese language site.

Further information on Gao Xing Jian and some important links in English and Chinese can be found on a website provided by BLUEPRINT.




News and Facts from
Germany - UPDATE -
after the change in 1998:
business no longer as usual
1998: red sky in the morning, shepherd's warning
Conservative black shepherds from the ruling Christian Democratic Party had been warning once too often. Now, their subjects got naughty and voted for a red sky dawning on them.
On 27 September 1998, German voters made it clear to Chancellor Helmut Kohl that there is no fooling with them any longer. Facing a high rate of unemployment and a questionable taxation system, a convincing majority voted for Kohl's competitor Gerhard Schroeder, candidate of the Social Democratic Party, and his junior partners from a young and sometimes unconventionally behaving Green Movement. Even though this can be seen as a turn to the left, nobody abroad should fear the new development. Foreign policy is expected to remain unchanged as has already been proven during the Kosovo conflict. A remarkable increase of votes in favour of the left-wing party PDS might enrich political debates in the general assembly of parliament, the German Bundestag.

1999: guess who pays the bill
People feel frustrated after the new government's attempt to demolish Germany's unique social security system in the frame of harsh economy measures. Those measures, launched ten months after Schroeder's inauguration, have won him many enemies and turned his own party upside down. Only a few weeks later, the electorate voting for the state parliaments in Brandenburg, Saarland, Sachsen and Thueringen inflicted heavy losses on the Social Democrats, thus forcing a political change in favor of the Christian Democrats, not only in the local governments itself but in the Bundesrat as well. The Bundesrat, installed as a second chamber within the German parliamentary system, represents the political power of local governments and is able to obstruct and delay many activities of the federal government. Thus, a toppling of the Social Democratic majority in that chamber will undoubtedly impose severe problems on Chancellor Schroeder's political strategy. Furthermore, it seems that many citizens in the country expressed their general disapproval of politics and politicians by abstaining from vote. As the PDS, based on a socialistic concept, is now ranking second to the Christian Democratic Party in two regional elections, a polarization between traditional socialistic stipulations and traditional conservative positions cannot be denied any longer. Profound structural changes expected to come, thus show their impact on the brains of such people that are not now accustomed to give up their traditional ways of thinking. The regional election in Berlin, divided capital in the times of Cold War, made it clear to everybody that there is still a wide gap between some East German and West German positions.

2000: last dance of the wicked
To make things even more complicated, an internal affair of the Christian Democratic Party CDU has severely damaged that party and its leader Helmut Kohl, resulting in a dramatic decline of popularity. Though, there are still some disciples left who never stop loving our ex-chancellor, the party and their leader are quickly drifting apart. As Kohl is not willing or able to tell parliament about his secret sponsors, he is finally toppled and replaced. After some time of confusion and further accusations, the Christian Democrats are finally fit for a change. Angela Merkel and Friedrich Merz are now representing the refreshed party. Meanwhile, the Social Democrats have won an important election for the state parliament of Schleswig-Holstein and such broken the chain of success for their Christian competitors. Furthermore, recent state election results in Nordrhein-Westfalen, one of the most populated and industrialized regions in Germany, enable NRW's Social Democratic prime minister to continue his policy. Now, the game is open again on all levels.

While xenophobia is dangerously increasing in our country, a campaign has been launched by some well-meaning politicians to encourage resistance against growing fascistic tendencies among youngsters. Unfortunately, impeding right extremists from chasing foreigners through the streets of some backward regions will not solve the problem, mainly based on a deficit of information about historic development and a total ignorance of basic virtues that have to nourish the roots of any strong and free community. Such, a halfhearted campaign can only point to further measures, including a thoroughgoing reform of education.

As if this wouldn't be enough for one single year, the "mad cow" disease (BSE) is now making its tour throughout Germany. When in December the first cases of BSE were detected, severe measures to ensure public health had to be taken within days. Thus, the use of bonemeal in the raising of animals has been strictly forbidden. Just in time for Christmas eve, people have been warned to avoid the consumption of certain meat products that might be infected by BSE. [The virus related to the "mad cow" disease, BSE, is notorious for causing a kind of fatal sponginess within an animal's brains and is suspected of triggering a similar disease in humans.]
As a consequence of the current development, two ministers of the federal government resigned in January 2001, such enabling Chancellor Schröder to restructure the system of responsibilities in the affected departments of agriculture and health. Only some weeks later, a female minister of the local Bavarian government had to resign. As an important member of the conservative Christian Social Union which holds power in Bavaria since World War II, her retreat could mark the beginning of essential changes in the Bavarian policy of agriculture.


From June to October the world exhibition EXPO 2000 in Hannover, Germany, attracted visitors from all over the world. Now, the counting of financial losses and the accusations of unprofessional management that accompanied this great national event from its very beginning are culminating again. Nevertheless, the EXPO is considered a success regarding its intrinsic aim to present Germany as a modern and tolerant country.


2001: the campaign is on !
The BSE problem still on their agenda, politicians and veterinarians have encountered another problem of national importance: the highly infectious foot-and-mouth disease (German abbreviation: MKS), affecting sheep and other related animals. As vaccination exists for most MKS species, it should be applied. Unfortunately, vaccinated animals lose their value as an exportation good. While carrying MKS antibodies, such healthy animals cannot be distinguished any longer from infected mates. Hence, vaccination remains the ultima ratio.

Two red-hot discussions are recently poisoning the political climate:

The standardized confession "I am proud to be a German" should now become the holy oath of patriotism that makes it possible to distinguish elements of questionable character from any upright German citizen. The Christian Democratic opposition, at the origin of that brainless campaign, is therefore attacking President Rau, Social Democratic head of the nation, in order to make him confess. Unfortunately, that stubborn old man is still insisting on his remark: "I like living in Germany", which hints at a very special sense of loyalty. As his personal view is shared by many Albanians and Turks who also enjoy living in Germany rather than rotting in their impoverished homelands, so why not just say it ?!?

Another campaign, initiated by Chancellor Schroeder and supported by a bloodthirsty Yellow Press, is directed at the forced reintegration of the elderly unemployed. Compulsory measures will be taken against that group to make them beg for any badly paid job. Shareholder values could thus profit from cheap employees and workers. "Chasing the Druckeberger" has become the motto of Schroeder's Social Democratic government, in a time when even young applicants find it hard to get a job. At least, the elderly are not yet forced to wear a yellow button ....
As high-level unemployment, its reasons and its consequences, are strongly related to some individual aspects of the German society, I have added a German language site to discuss some basic features.

How terrorism has changed our lives:

Heavy losses of shareholder values related to German companies, up to then deemed to be healthy, marked the beginning of a new age. As the development of international stock exchange showed for once, European economy is far more depending from U.S. economy than ever imagined before, a fact that could be regarded with some scepticism. Meanwhile, some of the companies affected announced their firm will to reduce staff within the near future in order to compensate their losses.

Furthermore, the recently forged "National Alliance against Terrorism" has triggered a development driving German citizens into a reduction of personal rights and an increased dependency from their government. Such, security measures of a new quality will be introduced soon, not only useful in the struggle against terrorism. A multitude of measures, comprising the collection of biometric data evaluated from each single citizen and a firmer grip on money transfer, might easily turn a free society, worth to be defended, into a kind of "Big Brother's holiday park".

First of all, taxes on a choice of consumer goods are planned to bee raised in order "to finance the struggle against terrorism", this being a measure even rejected by a Christian-Democratic opposition and the industry involved, even though both sides can be regarded as partners in the "alliance" and are generally backing the government's propositions.



"Mitgefangen - Mitgehangen !"
German adage: Caught together - Hung together


In November 2001, it became obvious that the Federal Republic was definitely obliged to support U.S. troops in their "fight against terrorism" in order to perform its duty as a member of the North Atlantic Treaty. The Ecologists (Bündnis 90 / Die Grünen), junior partner of Chancellor Schröder's Social-Democratic government, found that a challenge difficult to support. Following a long tradition as an antimilitaristic party, these Ecologists, together with some Social-Democrats, opposed Schröder's plans to dispatch German troops. When Schröder finally brought his full weight to bear, even risking the very existence of his government, a way was found to win him a majority in parliament without using the votes of the opposition, already known to be in favor of the war. A special role was left to the Ecologist minister of foreign affairs, Joschka Fischer, who succeeded in convincing most of his political friends. Thus, a conference on Afghanistan, scheduled to begin soon near the German town of Bonn (Petersberg), could be the best thing that might ever happen to the people of Afghanistan. A moderate view on war within German government circles and a long tradition of Afghan-German relations will stand for it.

2002: Mac Bush - store of the year
At the end of 2001, the PISA study made it clear to every citizen: Germany isn't any longer "the land of poets and philosophers". - Indeed, it seems that our nation has become an U.S. dependency instead. Even the Christian Democratic opposition feels obliged to flirt with Big Brother, after having been praised by the U.S. ambassador last year. A cheerful Angela Merkel remembers his words: "You are looking like winners", and takes them as a lucky omen with respect to the Federal Elections, due in September 2002. Such, there is no essential difference between government and opposition when it comes to an evaluation of the "Mac Bush" enterprise.

As to Afghanistan, where German troops are trying to fulfill a dangerous peacekeeping task, I would like to focus the attention of my readers on another website in German, dealing with the Kingdom of Afghanistan in its better days. In today's destabilized Afghanistan, life can become dangerous even for such allied forces, not directly involved in fightings. Recent news on heavy explosions near Kabul airport, where German troops are keeping their headquarters, and in the frame of fierce fighting in Eastern Afghanistan (AL-JAZEERA, 27/04/02) speak for themselves.

Facing the Federal Elections in September 2002, the Schröder government is fighting hard. A rising rate of unemployment is touching at the very root of the Chancellor's credibility who, four years ago, promised a reduction of that rate by 50%. Schröder's challenger, the Bavarian Prime Minister Edmund Stoiber, seems to be more successful in his own region, though there are already signs of dramatic changes in Bavarian economy, expected to come when regulations of the European Union (EU) will, step by step, open the German market for agricultural products from foreign competitors. Stoiber's regional campaign, intended to enhance the development of a New Technology in Bavaria, therefore seems to be a less important struggle in the frame of a decisive battle for economic supremacy in Europe. Furthermore, Stoiber's unreasoned support of President Bush's foreign policy will put him, sooner or later, in an awkward position among other European leaders who are already realizing the dangers of an U.S. hegemony. Even Federal Chancellor Schröder, who is rather known as a reliable ally of the Bush administration, made it clear that the planned invasion of Iraq by U.S. and British troops would be seen as a destabilizing act with respect to the whole Middle East and, therefore, by no means supported by his cabinet.

In some parts of the country, the Federal Election campaign has lost its attraction because of a flood disaster of unusual extent. Further news will be available on a special page.

After having won the elections, old / new Chancellor Schröder is trying to stabilize German economy with the help of political instruments that haven't been openly discussed with all of their consequences during Schröder's election campaign. The so-called Hartz Concept, intended to reduce unemployment by means of private employment agencies, heavy cuts in public health service going together with a reform of pensions, these are the most important items on Schröder's agenda. It looks as if, both, economic problems and unemployment are tearing down Germany, once known for its prosperous industry and its skilled people. Political counterattacks in parliament, launched by a confused opposition, are not really helpful in an overall development that is partly based on deeply rooted structural shortcomings.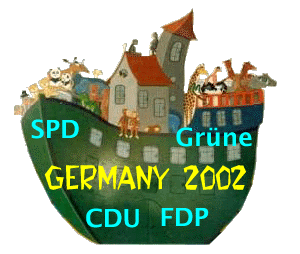 saved from the flood
2003: A Rude Awakening
An increasing discontentment among German citizens regarding latest proceedings of economy, unemployment and tax policy has shown its first result: Two local elections in the country, in Hessen and Niedersachsen, produced an overwhelming majority for the opposition party CDU. Chancellor Schröder's last trump card might be his firm position in the Iraqi crisis that seems to be in agreement with public opinion rejecting war.

- TO BE CONTINUED SOON -






Embracing the dragon

In the aftermath of Bill Clinton's visit to PR China, one might aks for an explanation why the president insisted on visiting China's hardheaded leader Jiang Zemin and confronting him with his very American views on democratic behaviour, though he could be sure to achieve absolutely nothing by that confrontation. Even more, economic bonds between China and the U.S.A. are of such a quality, that a remarkable increase of U.S. export quotations is unlikely to emerge, while China depends a great deal on its export to North America, delivering 70% of U.S. low-end consumer goods. Now what can be said in favor of Clinton's visit? Of course, a small group of educated Chinese can be influenced in their way of thinking, and already convinced dissidents will find a moral support in Clinton's actions and words. Nevertheless, it seems that Clinton's policy is mainly aimed at testing Chinese leaders. How will they react in a global struggle based on economic interest while political ideas are of minor importance? As the world is changing dramatically, with a growing network of uncontrollable economic transactions and global communications, it is important to know one's friends and one's enemies. As Europe is rapidly developing its own economic and political force, while the NATO even more rapidly changes its basic concept, China and its influence in East and Southeast Asia might become the joker in a global game of politics. By the way, China's leaders seem to recognize the importance of good sino-U.S. relations for their own political future. Remember that they encouraged appeasing contacts between high ranking militaries of both countries, shortly after the latest quarrel about Taiwan, when a war scenario was already complete.

By the way, I found an interesting article on that subject: "On a Global Strategy", composed by Dimon Li. This article has been published by The China Strategic Institute (CSI) in their journal named "The China Strategic Review" (vol. III, issue 1, spring 1998). As they are located in Washington D.C. and work with Chinese dissidents, you can imagine their political background and mission..... [November 2000: Meanwhile, that link doesn't work any longer. As there is no alternative URL to be found on the web, it might be possible that they simply suffer from temporary difficulties with their server.]


---
The official version of this site is published in English.
Special interest pages in Arabic, Chinese and French are added.
Last update of News and Comments effected in February 2003.

---
Short Notes:
Everybody interested in natural science should try that link.
Get lost on a thrilling and instructive SCIENCE ODYSSEY !





Recent publications on almost any serious topic you might be interested in, can be found in BLACKWELL's Academic Bookshops, well established in Britain. As they publish and sell sophisticated books that meet the need of professional readers, the BLACKWELL people are able to offer a vast choice of valuable publications, now even in the Web. Its really worth searching their site for a special subject you might have in mind :



If you ever need a Website in French, German or Chinese
to support your export activities, don't hesitate to contact me !
I am sure to meet your individual need for a reasonable price !