Voces de la XIV Cumbre del Movimiento de
Países No Alineados (MNOAL) en La Habana,
propagandas por la Televisión Cubana : La opinión de los jefes de Estado sobre los problemas del mundo,
desde la lucha contra el terrorismo islámico y sus raíces sociales
(Pakistan) hasta los peligros de la globalización (Jamaica), la he-
gemonia de los Estados Unidos en el Consejo de Seguridad de las
Naciones Unidas (Iran) y la violación de la soberania libanesa por
el ejército israelí (Morocco / Pakistan).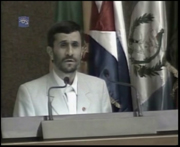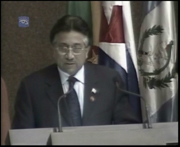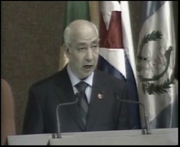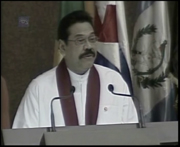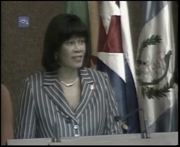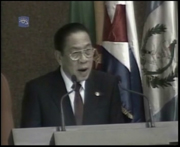 The politicians cited, shown in the order of their appearance in
the neighbouring text (from left to right, from above to below).

" Although there is power in military and economic might,
there is also power in number. ......... Therefore we need
a strong multilateral word. "
[ delegate of the Caribbean state of Antigua and Barbuda
that only recently joined the non-aligned community ]
<!- double definition for first element p required ! --> The Iranian president acknowledges support of Iran's position on the
subject of uranium enrichment by the community of non-aligned countries.
He demands the United Nations to overcome the blockade of its Security
Council, due to the possibility of a U.S. veto against each and every motion.


Pakistan's president Musharraf delivers best wishes for the recovery
of Fidel Castro and expresses his thanks to the government of Cuba
for having provided medical aid in the earthquake disaster that recently
haunted Pakistan. Musharraf condemns Israeli aggression in Lebanon.
Furthermore, he encourages support in the struggle against terrorism
while demanding the fight against its roots that are related to political
and economic injustice. Muslims worldwide should not any longer be
held responsible by Western countries for terrorist activity.


Both, the prime minister of Morocco and the president of Sri Lanka,
recall the spirit of Bandung where in 1955 the first conference of the
non-aligned countries took place.
The prime minister of Morocco demands respect of national integrity
of any country whatsoever, particularly hinting at Lebanon. He thanks
China for its support of the non-aligned community and encourages
the planning of bilateral or multilateral projects, intended to ameliorate
the situation of certain African countries.


The prime minister of Jamaica expresses her belief that globalization
of the developed countries can be expected to accelerate impoverishment
in the countries of the non-aligned community. That includes the growing
influence of global media.


The president of Laos demands an abolition of the U.S. embargo on Cuba.