AL-ARABIYA, 01/07/2006

Citations from an article based on a tape record that has been
ascribed to Bin Laden. Published after the killing of al-Zarqawi,
estimated as the local leader of al-Qaeda in Iraq, and referring
to the circumstances of his death, it can be seen as an obituary :


............. Bin Laden expressed his support of [ Abu Musab ] al-Zarqawi in
the matter of the killing of Iraqi citizens who fought under the guidance of
U.S. troops. And he said : " Abu Musab, Allah be merciful to him, was in
possession of instructions demanding a concentration of his fight against
military operations of the [occupation army] and their U.S. leadership. And
all those will be abandoned who wish to preserve neutrality; and everybody
who is still refusing to stop fighting Muslims from within the ranks of the
crusaders will be killed, regardless whoever he is, what his believes are
or the tribe he belongs to. " ............





AL-JAZEERA, English edition, 06/072006 :

Abu Hamza al-Muhajir, the purported successor of Abu Musab al-Zarqawi
as leader of al-Qaeda in Iraq, is in an Egyptian prison and not Iraq, a lawyer
has claimed. ............
The U.S. military had announced after the death of al-Zarqawi that al-Masri
[ one of al-Muhajir's assumed names ] had been appointed the leader of
al-Qaeda's organisation in Iraq.

[ Comment by W.W. :
The above cited article of AL-ARABIYA (01/07/2006) doesn't comprise
any remarks of Bin Laden on a possible successor to al-Zarqawi.
It was in an earlier article of AL-ARABIYA (12/06/2006) that al-Muhajir
has been referred to, for the first time, by the Egyptian brotherhood of
Muslims and in the frame of al-Zarqawi's death. Al-Muhajir should have
been in an Egyptian prison at that time, serving a seven years' sentence.
As to al-Muhajir's alias al-Masri, it can't even been excluded that his
case is closely related to that of a German citizen al-Masri who had
been seized by mistake and unlawfully interrogated in a U.S. camp. ]



WWW.GLOBALRESEARCH.CA :
The case of al-Zarqawi illustrating a disinformation campaign, launched
by the U.S. intelligence apparatus in order to justify expensive counter-
terrorism and war propaganda: Who is Abu Musab Al-Zarqawi ?




L'EXPRESS, Paris, edition 15/06/2006
[ L'Amérique n'en a pas fini avec l'Irak ]:

The army has overestimated the role of the "prince of al-Qaeda".

Both, the circumstances and the moment of his death are by no means
coincidental..... They arrived at the moment when dissensions between
al-Zarqawi and certain groups of nationalist Sunni insurgents became
obvious.
... He owes his fame to an exceeding U.S. propaganda and to Colin
Powell, former secretary of state, who was decided to prove a connec-
tion between Iraq and international terrorism and who, for the first time,
mentioned Zarqawi in front of the NATO security council's reunion of
February 5 2003.
In fact, that disobedient "freebooter" of the al-Qaeda brand became
an object of contempt and the target of admonitions by Bin Laden and









كما دافع ابن لادن عن قتل الزرقاوي لعراقيين حاربوا الى جانب القوات
التي تقودها الولايات المتحدة . و قال " أبو مصعب عليه رحمة الله كانت
لديه تعليمات واضحة بأن يركز قتاله على الغزاة المحتلين و على رأسهم
الامريكيين و أن يحيد كل من رغب في الحياد و أما من أبى الا ان يقف
يقاتل في خندق الصليبيين ضد المسلمين فليقتله كائنا من كان بغض النظر
" .عن مذهبه أو عشيرته

[ Translation by Wolfgang Wiesner ]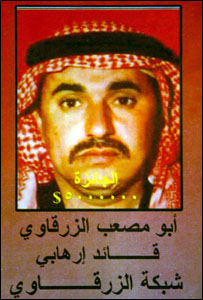 "heroic" portrait of Abu Musab al-Zarqawi (above)
and his "successor" Abu Hamza al-Muhajir (below)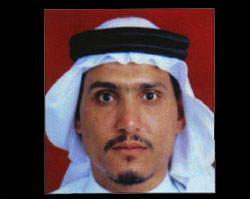 al-Zawahiri. Both leaders of the "parent company"
were disturbed about Zarqawi's assassination of
Chiites that would not stop discrediting their cause
in the eyes of the Muslimic community. Nevertheless,
Zarqawi became an international relay that served
their true matter of concern. ...

[ Translation by Wolfgang Wiesner ]

PEOPLES' DAILY online edition, Beijing, 22/07/2006 :
According to a UN study of victims in the Iraq conflict,
3.000 persons were killed during the month of June
2006 which leads to a daily rate of 100 casualties.